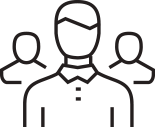 Re-engage inactive prospects and customers.

Perfectly schedule, set boundaries and responses within email campaigns.

Automate welcome email marketing series in one workflow.

Automate customer journeys and create seamless customer experiences.

Setup delay intervals between emails for auto-responders and marketing emails.

Boost email marketing campaign open rates without breaking a sweat!